Widespread intimidation, vote buying and misuse of administrative resources ahead of the presidential runoff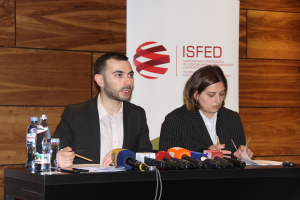 On November 21, the International Society for Fair Elections and Democracy (ISFED) published a report of pre-election monitoring of the runoff of the 2018 presidential election. The document covers the period from October 29 to November 19.
The election campaign before the runoff was far more polarized and negative than the campaign before first round of the election. During the period between the first and the second round of the election, aggressive rhetoric has intensified. Right after the first round ended, the ruling party representatives made alarming statements and prognoses about threats of civil war and possible destabilization if the opposition candidate wins. Later, the independent candidate endorsed by the ruling party made an announcement about receiving death threats through messages. In the period between the first and the second round, media is markedly polarized. In the beginning of the second round, Imedi TV made an announcement that it would start operating in the "emergency mode", against the United National Movement and Grigol Vashadze, while Rustavi 2 TV clearly expresses support for the opposition candidate.
During the reporting period, ISFED found: 40 cases of intimidation/harassment; 1 case of threat against a presidential candidate; 3 cases of dismissal from work on possible political motive; 5 instances of physical confrontation; 13 cases of possible vote buying; 14 cases of misuse of administrative resources; 2 incidents of interference with pre-election campaign; 6 acts of damaging campaign materials and 1 act of interference with observer's activities.
Intimidation/harassment have become widespread. According to ISFED observers, in different municipalities civil servants and employees of municipal bodies are pressured, so are private sector employees and other vulnerable voters. Municipal officials in different municipalities are holding systematic meetings with civil servants and employees of non-profit (non-commercial) legal entities of municipalities, demanding that they support Salome Zourabichvili. In certain cases, threats about dismissal from work were made.
In addition to intimidation/harassment against opposition supporters or regular citizens, facts provided in this report also contain elements of abuse of administrative resources because in majority of cases intimidation is carried out by high-level officials through abusing official powers.
During the monitoring period, acts of physical confrontation took place, which were not characteristic of the first round. In four cases, opposition activists and their supporters were subjected to physical violence and in one case a person was physically abused for not voting in favor of Grigol Vashadze.
During the reporting period, ISFED found instances of dismissal from work on possible political grounds, which also did not take place during the first round election campaign.
The pre-election period of the runoff was marked by vote buying at an unprecedented scale as PM Mamuka Bakhtadze announced about the initiative to write off a total of GEL 1.5 billion worth of unpaid financial liabilities for 600,000 citizens of Georgia. In addition, ISFED observers reported that money was offered to voters in some municipalities, in exchange for voting in favor of Salome Zourabichvili.
The Government of Georgia and local authorities have made extensive promises about a range of social and infrastructural projects. The PM and other members of the Government have unveiled new projects that aim to benefit specific social groups. This leave an impression that these projects have to do with the results of the first round of the election and they aim to garner support of voters in the runoff in favor of the presidential candidate endorsed by the ruling party. Therefore, these initiatives contain elements of misuse of administrative resources.
During the pre-election period, isolated cases of interference with election campaign were again found, both against Salome Zourabichvili and Grigol Vashadze campaigns. In addition to the interference, Salome Zourabichvili was also insulted.
ISFED has observed that during the runoff campaign five public movements became active with the aim of carrying out a campaign against the UNM presidential candidate. These movements are organizing different events and campaign activities, which creates suspicions that they are making donations in favor of Salome Zourabichvili. Movement members operate with declared electoral goals – in particular, with the intention is to influence political processes and strive to maintain the existing political state. To this end, they resort to using financial resources and provision of services. Their actions manifest in open support of the independent candidate endorsed by the ruling party, Salome Zourabichvili and calls not to support the UNM candidate. Under art.261 of the Organic Law of Georgia on Political Association of Citizens, the principle of financial transparency also applies to the person with declared electoral goals, who is using adequate financial and other material resources for accomplishing these goals.
ISFED presented several recommendations for improving the electoral environment:
High-level officials of the government should publicly distance themselves away from political intimidation and possible acts of vote buying; urge the heads of local governments and ruling party supporters to immediately cease all attempts of influencing will of voters; they should also refrain from unveiling any large-scale initiatives, social and infrastructural projects during the electoral period, abide by requirements of the OSCE Copenhagen Document and draw a clear line between the state and the campaign activities of the ruling party.
Law enforcement authorities should investigate and take adequate legal actions in response to intimidation/harassment on possible political motive and possible facts of vote buying; they should also investigate immediately, effectively and in an unbiased manner acts of physical confrontation and threats made against Salome Zourabichvili.
Political parties and electoral subjects should prevent use of hate speech and aggressive rhetoric in the election campaign and demonstrate high degree of responsibility when making public statements; to prevent physical confrontation they should refrain from mobilizing their supporters to attend public meetings of opposing parties/candidates; they should also refrain from any such forms of interaction with voters that create risks of vote buying;
Local self-government bodies should eliminate the practice of intimidation and coercion against civil servants; observe political neutrality; eliminate any possible use of budget and administrative resources in favor of candidates; prevent campaigning by civil servants during work hours and provide local self-government employees with information about their rights and responsibilities during the electoral period.
This report is made possible by the generous support of the American people through the United States Agency for International Development (USAID) and the National Endowment for Democracy (NED). Views expressed in this publication belong solely to the International Society for Fair Elections and Democracy and do not necessarily reflect the views of USAID, the United States Government or the NED
<< Back
21.11.2018